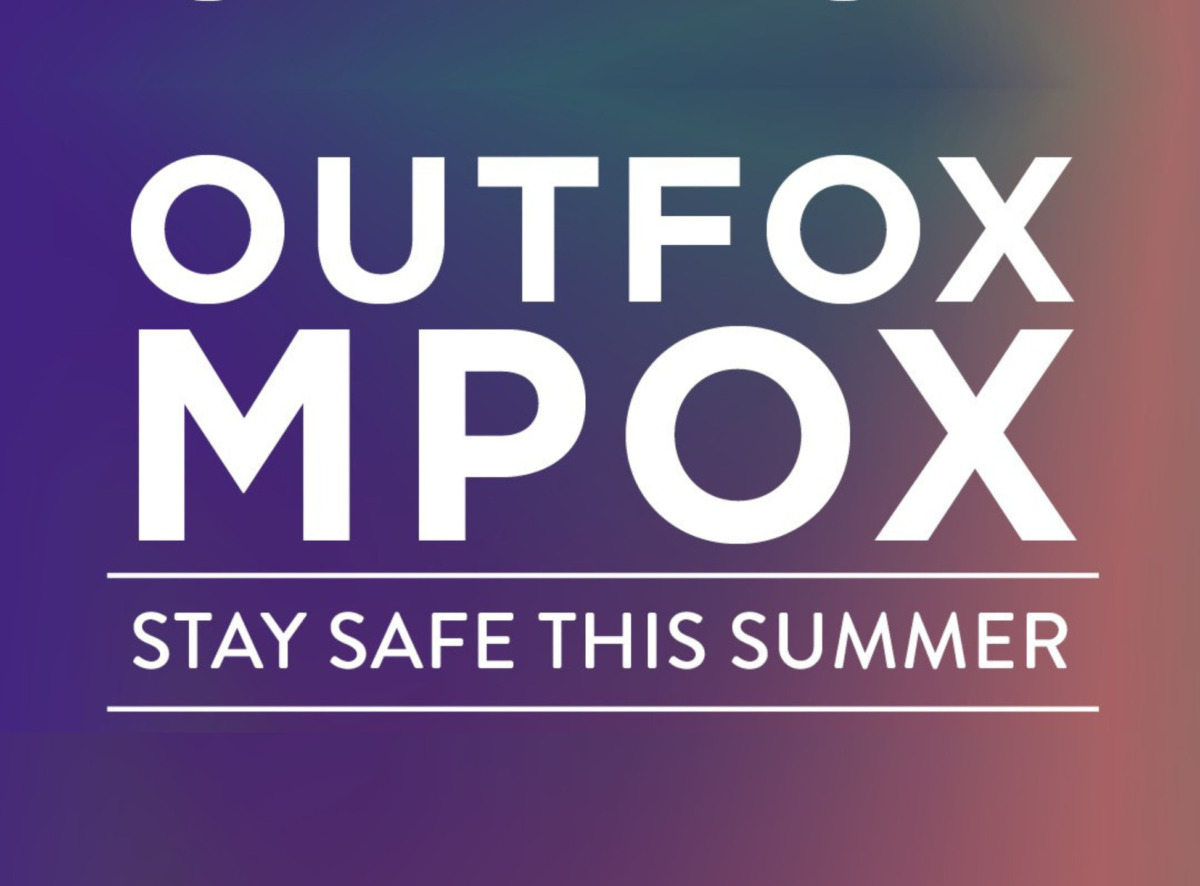 Monkeypox
Mpox (monkeypox) update for our community
Outfox mpox (monkeypox)
Mpox is a viral infection that spreads through close physical contact, including sex.
Anyone can get the virus, but right now it's largely affecting gay, bisexual or other men who have sex with men.
Symptoms can include a rash, fever, chills, headache and muscle aches. The virus isn't usually life threatening but it can often be painful, with symptoms lasting for several weeks.
Mpox vaccine (JYNNEOS® vaccine) provides excellent protection against the infection and is now available free-of-charge for specific priority groups in Victoria.
Keep yourself safe and get vaccinated today.
Mpox vaccination
Mpox vaccination is available at some clinics in the western metropolitan catchment. The vaccine is prioritised for people at higher risk of contracting the infection including:
gay, bisexual and other men, non-binary people assigned male at birth, or trans people who have sex with men (including cis and trans men) who are most likely to be exposed (see below FAQ "Who is at risk?")
sex workers, particularly those whose clients are in the above group
people with immunocompromise
laboratory workers analysing specimens from monkeypox cases
immunisation providers who are administering the ACAM2000™ smallpox vaccine
people at high-risk of infection who are planning travel to a country experiencing a significant outbreak (recommended 4-6 weeks before departure).
Vaccination can also be given to protect against infection within four days after exposure for high-risk contacts of monkeypox cases. This is known as post exposure prophylaxis (PEP).
The mpox vaccine requires two doses for optimal protection, administered at least 28 days apart. See our FAQs below for further information on the vaccine and its effectiveness.
Mpox vaccination hub
Deer Park Clinic
The Western Public Health Unit has partnered with IPC Health and Deer Park Clinic to administer mpox vaccinations at the following site:
Deer Park Clinic
106 Station Rd, Deer Park
Sundays from 10am-2pm
(Until 25 June 2023)
These is a walk-in vaccination site. No appointments necessary.
Kings Park Medical Centre (appointment-only vaccination)
Kings Park Medical Centre is providing mpox vaccinations by appointment (no walk-in service). The centre will cover the cost of the vaccination through bulk billing, which means there is no out-of-pocket cost. Please note, if the mpox vaccination is part of a long consultation (for example, a sexual health or sexually-transmitted infection consult), the clinic will charge for the cost of the consultation and vaccination, which involves an out-of-pocket fee.

Kings Park Medical Centre
40 Gourlay Rd, Hillside
03 9217 9400
www.kingsparkmedical.com.au
Monday to Friday 9am to 6pm
Saturday 9am to 5pm
Sunday closed
Vaccinations are by appointment only. No walk-in service available.
The clinics below provide mpox vaccination. Please contact the clinics directly regarding opening hours and whether the mpox vaccination service is walk in or by appointment only.
Hoppers Lane General Practice
242 Hoppers Lane, Werribee
Phone: 8731 6500
nurse@hopperslanegp.com.au

Victoria Harbour Medical Centre
Office 2-3 / 850 Collins Street, Docklands
Phone: 9629 1414
www.victoriaharbourmedicalcentre.com.au
Utopia Refugee and Asylum Seeker Health
5 Alexandra Avenue, Hoppers Crossing
Phone: 1800 130 49
www.utopiarefugeehealth.com
Find other locations across metropolitan Melbourne
Vaccination frequently asked questions
How does the vaccine work?
The vaccine for mpox is a two-dose vaccine, preferably administered into the upper arm. There needs to be a minimum of 28 days between doses.
Vaccination is highly effective, and a person will start to build protection in the days and weeks after their first dose, but it takes two weeks before it is effective. More information about the vaccine is available here.
What are the common side effects of the vaccine?
Side effects can occur but are usually mild and do not last long. Common side effects include pain where you received the injection, redness, swelling, hardening, or itch; muscle aches; headache; fatigue; nausea; chills; and fever.
I have been exposed to mpox. Am I eligible for the vaccine?
Anyone categorised by public health authorities as a high-risk contact of someone with monkeypox should get the vaccine. Speak to your local public health unit, GP or healthcare professional about vaccine access if you have been told this could apply to you.
I have symptoms of mpox. Am I eligible for the vaccine?
If you have symptoms of mpox it is important to be evaluated by a healthcare provider. Consult with your sexual health clinic or GP as soon as possible, and before accessing a vaccine appointment.
Mpox frequently asked questions
How does mpox spread?
Mpox does not spread easily between people. Transmission may occur through:
Close, personal contact including skin-to-skin contact with mpox skin rashes, sores, or scabs. This includes contact during intimate or sexual activity, such as:
Oral, anal, and vaginal sex
Touching and skin-to-skin contact
Contact with clothing, bedding, towels or other objects used by an infected person.
Respiratory droplets (from coughs or sneezes) from a person with mpox, usually from extended face-to-face contact.
It is unknown whether mpox is spread via sexual fluids. Although condoms do not provide complete protection against mpox, they can reduce the risk of developing sores on areas that are covered. It is important to practice safe sex and wear a condom when engaging in sexual activity to prevent the spread of other sexually transmitted infections.
Who is at risk?
Mpox can affect anyone who comes into direct contact with someone who is infected. However, currently mpox is largely impacting gay, bisexual or other men who have sex with men.
People at increased risk of mpox infection include but are not limited to gay, bisexual and other men who have sex with me who:
are living with HIV
have multiple sex partners, participate in group sex or attend sex on premises venues
have had a sexually transmitted infection or have been advised to take HIV PrEP
have received a recommendation to receive vaccination from other service providers, such as sexual health clinics.
Are experiencing homelessness, use drugs or have psychiatric illness.
To lower their risk of infection, gay, bisexual or other men who have sex with other men can:
Get vaccinated.
Avoid contact, including sexual contact, with people who are unwell or have compatible symptoms (such as sores).
Use a condom when engaging in any sort of sexual activity. This can reduce the chance of getting sores in sensitive areas and prevent other sexually transmitted infections.
Avoid skin-to-skin contact, especially with anyone with a rash or sores.
What are the symptoms of mpox?
People with mpox may get a range of symptoms throughout the illness. Symptoms usually start within 3 weeks of exposure to the virus and include:
A rash on or near the genitals or near the anus, or on other parts of the body such as the hands, feet, chest, face, or inside of the mouth.
Fever, chills, headache, muscle aches and backache, exhaustion, and swollen lymph nodes.
Respiratory symptoms like sore throat, nasal congestion, or cough.
The rash can look different from person to person and during different times of the illness. It can resemble a pimple or a blister, that can later develop a scab. It might have one spot or many. It may also be painful or itchy.
Usually if an infected person has flu-like symptoms, they will develop a rash 1-4 days later. However, some people may develop a rash first, followed by other symptoms. Other people may only experience a rash.
What should I do if I think I have symptoms?
If you develop mpox symptoms, and particularly if you develop a rash, you should isolate away from others and seek medical care at your GP clinic, the Melbourne Sexual Health Centre, or your nearest sexual health service. Call ahead of time to let them know you will be attending so they can ensure you are isolated away from others. If you have a rash or blisters, make sure these are covered, and make sure you wear a mask to prevent spread to others.
It is important that people with symptoms avoid close contact with others, including sharing beds, touching skin-to-skin, and sexual activity.
Mpox can be spread from the time symptoms start until the rash has healed, all scabs have fallen off, and a fresh layer of skin has formed. The illness typically lasts 2-4 weeks.
I am travelling overseas, or have recently returned from overseas, what should I do?
If you are travelling overseas and are sexually active whilst travelling, or if you attend large parties or other places where sex or intimate contact or other skin-to-skin contact occurs, vaccination is recommended 4-6 weeks before departure.
Seek advice from local health authorities if you think you might have been exposed.
If you have recently returned from overseas and were sexually active whilst travelling or attended large parties where sex or intimate or other skin-to-skin contact occurred, we advise you watch for symptoms. If you develop symptoms, you should seek medical attention and isolate away from others.
More information for mpox cases or contacts can be found on the Better Health Channel website. If you have specific questions or concerns, please contact us, we are here to help.