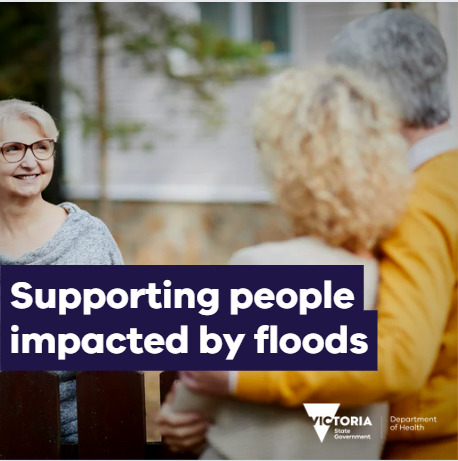 Environmental health
Staying safe when impacted by major flooding
Things you can do before, during and after major flooding to stay safe.
Recent flooding has caused widespread damage to communities across regional and metropolitan areas in Victoria.
There are things you can do before, during and after major flooding to protect yourself and your family.
You can always leave home in an emergency, even if you have COVID-19.
It is important that you stay up to date with information and advice for your area:
Floodwaters are often deeper than they look. Don't try to walk, swim or drive through floodwaters.
Good swimming skills will not always keep you safe. Swirling objects in the floodwaters, such as tree branches, could strike you.
After flood waters subside, there are still risks to your health and safety. Safety suggestions include:
Keep listening to ABC local radio for updates
Don't use any gas or electrical appliances before having them checked first.
Local water supplies in affected areas may be contaminated, so boil tap water or use bottled water until local water authorities tell you that the water is safe to drink.
Avoid any areas that remain flooded.
Mosquitoes can breed rapidly and become a nuisance – cover skin with long sleeves and pants, and use an insect repellent. Mosquitos can carry a range of diseases, including Japanese Encephalitis which has recently been detected in Victoria.
Flooding can also cause excessive mould growth, which must be cleaned up before moving back to your home.
A number of infectious diseases, including gastrointestinal infections and hepatitis A, can spread through contact with contaminated surfaces. The likelihood of illness increases when floodwater contains faecal material (poo) from overflowing sewage systems, agricultural or industrial wastes.
Floodwaters can affect food through direct contact or, indirectly, by causing interruptions to power supplies, affecting local refrigeration. Throw away:
food that has come into direct contact with floodwater
any food that has an unusual odour, colour or texture
perishable foods (including meat, poultry, fish, eggs or leftovers) that have been left at above 5 °C for more than four hours
canned food if the can is open, bulging or damaged
food containers with screw caps, snap-lids, crimped caps (soft drink bottles), twist caps, flip-top lids and home-canned foods.
Flood Recovery Hotline
Flood Recovery Hotline is a single state-wide number, 1800 560 760, that Victorians impacted by the October 2022 floods can call for help or assistance with:
navigating available supports
mental health and wellbeing support
emergency accommodation support
The recovery hotline is open from 7.30am-7.30pm every day.
Call 1800 560 760
Emergency Relief Payment
Emergency financial assistance is available for community members whose homes have been impacted by the current flood emergency in Victoria to help them to meet their relief needs.
Where else to get help
Additional information can be found on the Better Health Channel Website. Translated information can be found on the Health Translations Website.