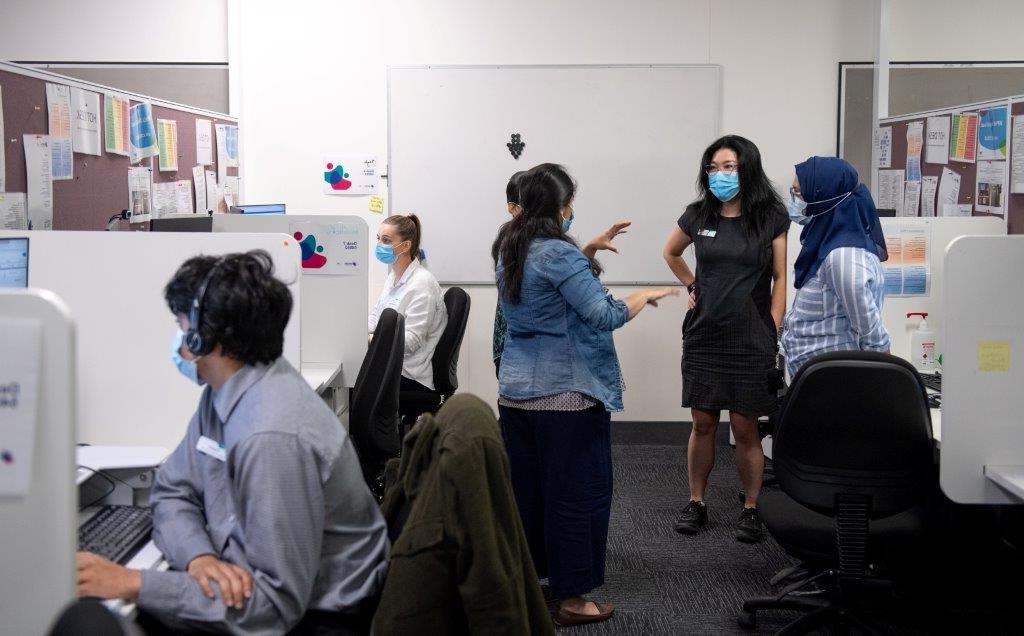 Factsheets
Safely returning to the workplace
After long periods of remote working arrangements, many Victorians will return to their offices this week. While this is an exciting time to reunite with colleagues in person, it's important that we all continue to do our part to slow the spread of COVID-19.
There are three key ways you can protect yourself and your colleagues against COVID-19.
Get your third dose.
A third dose of the COVID-19 vaccine significantly increases your protection against severe illness, hospitalisation and death from COVID-19. Even if you have recently recovered from COVID you should get your third dose as soon as possible. Book or walk in as soon as you are out of isolation, you are well and it has been three months since your second dose. The protection you get from a third dose is much stronger than the level of natural immunity you get from Omicron infection, even if you have received two doses of vaccine. A third dose also reduces the risk of bringing COVID home to your friends and family. For more information about where to get your third dose, click here.
Remember your face mask.
Despite face masks not being mandatory in most offices as of Saturday 26 February, they remain a great defence against COVID-19. If you are in close proximity to other people (elevator, small meeting room), you can wear a fitted face mask over both your nose and mouth. COVID-19 is an airborne virus which means the virus can spread from an infected person's mouth or nose in small liquid particles when they cough, sneeze, speak, sing or breathe. A face mask is a great way to limit this kind of transmission.
Face masks are still required for employees in the following industries, unless an exemption applies:
Hospitals and care facilities
Justice and correctional facilities
Early childhood and primary school settings
Hospitality, retail and the court system
Implement ventilation strategies.
Ventilation of indoor spaces provides air movement that will assist in the dilution of any viral particles that may be in the air. There are a number of ventilation strategies that can be implemented in the workplace including opening a window; using a heating, ventilation and air conditioning system (HVAC); or purchasing a high-efficiency particulate air (HEPA) filter. To find out more about best ventilation principles, click here.
If you have questions or concerns about COVID-19 and returning to the workplace you can contact us.
It is important that we continue to practise COVIDSafe behaviours when heading back to the office. Good hand hygiene, social distancing and staying home if you are sick are simple and effective ways to reduce the spread of COVID-19. Protect yourself, your colleagues and the community from COVID-19.