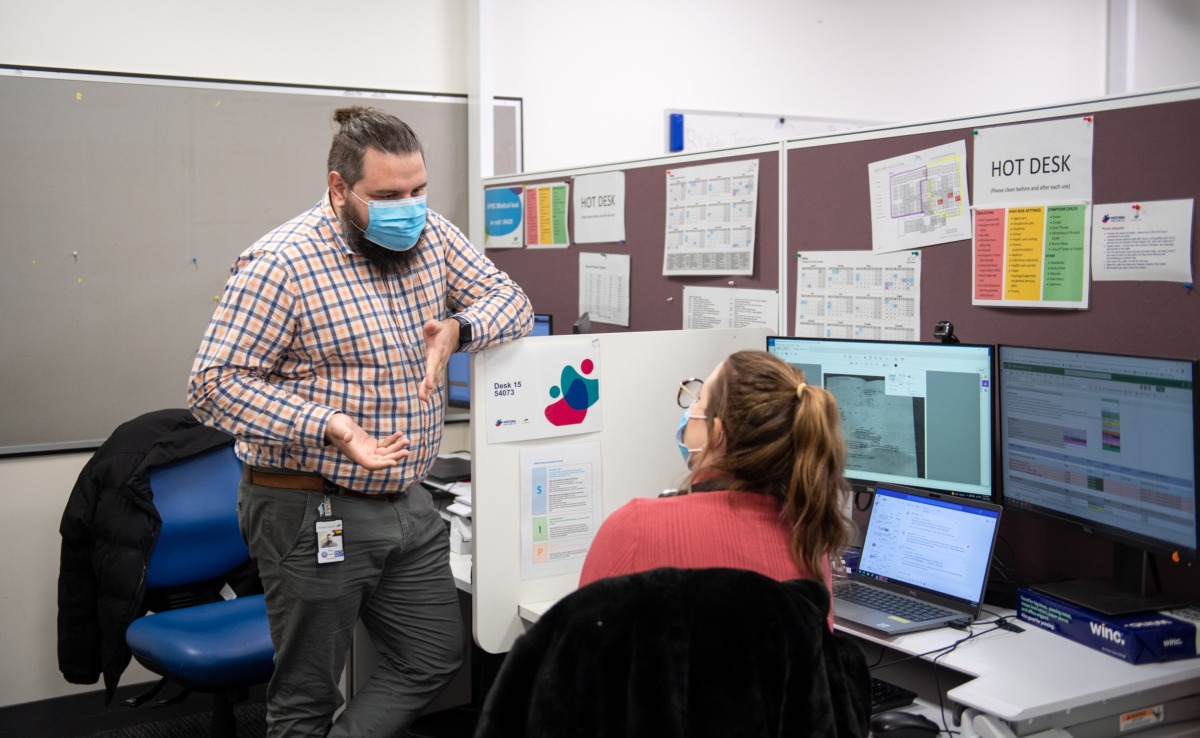 Monkeypox
Monkeypox update for our community
Monkeypox is a rare but potentially serious disease caused by infection with the monkeypox virus.
Since May 2022, there have been an increasing number of cases around the world, including infections caught in Victoria.
Monkeypox usually gets better without treatment. For severe cases, medicine is available in Australia to manage symptoms, so early diagnosis is important.
Australian health authorities are monitoring the evolving global monkeypox outbreak. As we continue to learn more about this disease, information is subject to change over time.
How does monkeypox spread?
Monkeypox does not spread easily between people. Transmission may occur through:
Close, personal contact including skin-to-skin contact with monkeypox skin rashes, sores, or scabs. This includes contact during intimate or sexual activity, such as:

Oral, anal, and vaginal sex,
Touching and skin-to-skin contact,
Hugging and kissing.

Contact with clothing, bedding, towels or other objects used by an infected person.
Respiratory droplets (from coughs or sneezes) from a person with monkeypox, usually from extended face-to-face contact.
It is unknown whether monkeypox is spread via sexual fluids. Although condoms do not provide complete protection against monkeypox, they can reduce the risk of developing sores on areas that are covered. It is important to practice safe sex and wear a condom when engaging in sexual activity to prevent the spread of other sexually transmitted infections.
Who is at-risk?
Monkeypox can affect anyone who comes into direct contact with someone who is infected. However, currently monkeypox is largely impacting gay, bisexual or other men who have sex with men.
To lower their risk of infection, gay, bisexual or other men who have sex with other men can:
Avoid contact, including sexual contact, with people who are unwell or have compatible symptoms (such as sores).
Use a condom when engaging in any sort of sexual activity. This can reduce the chance of getting sores in sensitive areas and prevent other sexually transmitted infections.
Avoid skin-to-skin contact, especially with anyone with a rash or sores.
Wash hands often.
What are the symptoms of monkeypox?
People with monkeypox may get a range of symptoms throughout the illness. Symptoms usually start within 3 weeks of exposure to the virus and include:
A rash on or near the genitals or near the anus, or on other parts of the body such as the hands, feet, chest, face, or inside of the mouth.
Fever, chills, headache, muscle aches and backache, exhaustion, and swollen lymph nodes.
Respiratory symptoms like sore throat, nasal congestion, or cough.
The rash can look different from person to person and during different times of the illness. It can resemble a pimple or a blister, that can later develop a scab. It might have one spot or many. It may also be painful or itchy.
Usually if an infected person has flu-like symptoms, they will develop a rash 1-4 days later. However, some people may develop a rash first, followed by other symptoms. Other people may only experience a rash.
What should I do if I think I have symptoms?
If you develop monkeypox symptoms, and particularly if you develop a rash, you should isolate away from others and seek medical care at your GP clinic, the Melbourne Sexual Health Centre, or your nearest sexual health service. Call ahead of time to let them know you will be attending so they can ensure you are isolated away from others. If you have a rash or blisters, make sure these are covered, and make sure you wear a mask to prevent spread to others.
It is important that people with symptoms avoid close contact with others, including sharing beds, touching skin-to-skin, and sexual activity.
Monkeypox can be spread from the time symptoms start until the rash has healed, all scabs have fallen off, and a fresh layer of skin has formed. The illness typically lasts 2-4 weeks.
I am travelling overseas, or have recently returned from overseas, what should I do?
If you are travelling overseas and are sexually active whilst travelling, or if you attend large parties or other places where sex or intimate contact or other skin-to-skin contact occurs, be aware of the risk of monkeypox. Seek advice from local health authorities if you think you might have been exposed.
If you have recently returned from overseas and were sexually active whilst travelling or attended large parties where sex or intimate or other skin-to-skin contact occurred, we advise you watch for symptoms. If you develop symptoms, you should seek medical attention and isolate away from others.
Who is eligible for a vaccine for monkeypox?
The vaccine for monkeypox is now available free-of-charge for specific priority groups. Eligibility criteria will be limited while the Department of Health secures additional supply. This information will change over time.
Monkeypox vaccination is currently available for the following priority groups:
Post exposure prophylaxis (PEP) for high-risk close contacts of monkeypox cases identified within 4 days of exposure 
Laboratory workers who analyse specimens from monkeypox cases 
Sexually active gay, bisexual and other men who have sex with men (including cisgender and transgender men) 

Who have also had a sexually transmitted infection in the last 12 months, OR 
Are intending to attended large parties where sex or intimate or other skin-to-skin contact may occur during overseas travel to Europe or North America before 31 October, OR 
Who attend sex on premises venues 

Sexually active gay, bisexual and other men who have sex with men (including cisgender and transgender men) who are homeless, or have significant drug use or psychiatric illness 
Sex workers who engage in sex with gay, bisexual and other men who have sex with men. 
If you meet the eligibility criteria and would like to be notified about future appointments, register your details at the online form. Vaccine enquiries can also be made at the following metropolitan clinics.
More information for monkeypox cases or contacts can be found on the Better Health Channel website.  If you have specific questions or concerns, please contact us, we are here to help.