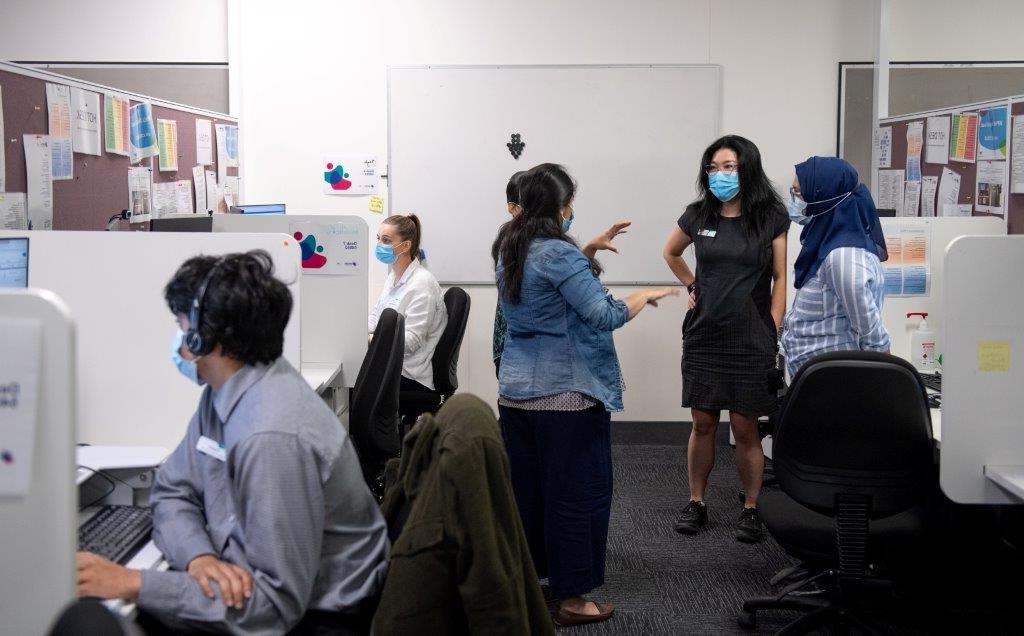 COVID-19
COVID-19 frequently asked questions
COVID-19 restrictions in Victoria have recently changed. We've answered some frequently asked questions so you can do the right thing to protect yourself and your loved ones.
I've recently tested positive for COVID-19 but what happens if I am exposed to COVID-19 again?  
You may be able to contract COVID-19 again as early as 4 weeks after your recovery. You should get tested again after 4 weeks if you have new symptoms or have been re-exposed to the virus.  
I have no symptoms but with the high number of cases in the community, I'm worried I will soon get COVID-19. What should I do?  
Step 1: Get vaccinated. Everyone over 16 years of age is eligible for 3 doses of the COVID-19 vaccine. People aged over 30 are eligible for a 4th dose. Vaccination is your best defence against severe disease.  
Step 2: Stay COVIDSafe – wear a mask when unable to socially distance, maintain physical distancing, practise good hand hygiene. 
Step 3: Talk to your GP to see if you are eligible for COVID-19 medicines if you test positive for COVID. We recommend people at high risk of becoming severely unwell from COVID develop a COVID Readiness Plan with their GP before they become unwell.  
I have been exposed to COVID-19. What should I do?
Step 1: Get tested if you have symptoms. 
Step 2: Monitor for COVID symptoms and stay safe. 
Step 3: It is recommended that you use a rapid antigen test daily for 5 days following your contact with a case. Tests are available for free at some testing sites. 
Positive rapid antigen test results should be reported online so you can receive medical support if you need it.  
I have COVID-19. Should I manage my symptoms at home, seek medical advice or go to hospital?
If you are experiencing chest pain or difficulty breathing, call 000 now. 
If you have reported your positive COVID-19 test result you will receive a text message from the Department of Health that asks you to complete a short form about your symptoms. Rapid antigen test results can be reported online or by calling 1800 675 398, you do not need to self-report PCR test results.
Depending on the symptoms you report, you may be placed in COVID-19 Positive Care Pathways program, which means that a healthcare professional will contact you regularly to help monitor your symptoms.
For most people with COVID-19, recovering at home will the best option for care because they only experience mild symptoms like a runny nose, aches and pains, dry cough or headache that are best treated with rest or over-the-counter medication like paracetamol. For more information about managing your symptoms at home, visit the Victorian Government website.
For information in other languages, click here.  
My child has tested positive for COVID-19. What should I do?
Most children who get COVID-19 will develop a mild infection, similar to that of a common cold, or the flu. Symptoms usually last between 2-7 days and the risk of hospitalisation is low.
If your child is asymptomatic or has mild symptoms, you can manage COVID-19 at home.

If your child's symptoms worsen, contact your GP or Nurse on Call for advice.

If your child has severe symptoms – like difficulty breathing, chest pain or discomfort, fainting, coughing up blood – then call Triple Zero (000) immediately.
For information in other languages, click here.
I have COVID-19. What should I do?
Step 1: Focus on your health and get help if you need it. If your symptoms are mild, you can manage COVID at home. If your symptoms worsen, contact your GP or other healthcare professional. If you have severe symptoms like difficulty breathing or chest pain, call Triple Zero (000). 
Step 2: Report your result online or by calling 1800 675 398 so you can receive support if you need it. You should isolate for 5 days or until you are feeling better.  
Step 3: You should tell people you have been in contact with recently so they can take steps to protect themselves.
My friend or family member has COVID-19 and I want to drop off supplies such as food or medicine. How can I do this safely?  
If you a dropping supplies to some who is isolating you should leave them at the door, which should only be opened once you have left.  
Why is it so important for me to get tested for COVID-19?
Getting tested for COVID-19 early could save your life. People who have COVID-19 may not be very sick in the first few days of their infection but could go on to develop severe illness. You can spread COVID-19 to other people before you have symptoms, and even if you only have mild symptoms.
It is important to get tested for COVID-19 as soon as possible when you have any symptoms or feel sick in any way because you may already be contagious. You can use a rapid antigen test or a PCR test. If you test positive using a rapid antigen test should isolate for 5 days or until you no longer have symptoms and register your positive result online.
If you can't access a rapid antigen test or a PCR test you should stay at home until you are feeling better. For more details about accessing COVID-19 tests, click here.
If you do test positive for COVID-19, the COVID-19 Positive Pathways program provides health monitoring and support from your GP and local health service. For more information about this program and other support available to you, visit the Department of Health. You may be eligible to receive treatment with a medication that can prevent severe complications of COVID-19.
For information in other languages, click here.
How many vaccinations do I need to be fully protected?
It is important to stay up to date with COVID-19 vaccinations to ensure you have the most protection from COVID-19 that you can get. The Australian Technical Advisory Group on Immunisation (ATAGI) has made recommendations on the use of COVID-19 vaccines in Australia. 
These recommendations are updated regularly and differ depending on your age and medical history. 
For more information visit the ATAGI website.
How do I improve ventilation and let fresh air in?
To improve ventilation in your home and business you can:
Make the most of natural ventilation such as opening windows and doors
Make use of existing heating and cooling systems to bring in fresh air
Consider using portable filtration units, such as HEPA filters
Use ceiling and pedestal fans in combination with greater airflow (e.g. open windows)
If you can't improve ventilation, you should consider going outside or limiting the number of people in a space and consider wearing a mask.
How do you get COVID-19? When and where is the biggest risk?  
COVID-19 usually spreads from person to person via tiny droplets of viruses released when people breathe, speak, cough or sneeze.
These tiny droplets float in the air and can linger in a room for a long time. Another person can breathe in these droplets and become infected. The risk of transmission is highest where there is an overlap of the "three C's":
Crowded places
Close contact settings (such as face-to-face conversations)
Confined or enclosed spaces
Examples of these include public transport, major events, many workplaces and family gatherings at home. This is why masks, and self-exclusion when positive or symptomatic, are highly recommended in these situations. 
What is long COVID? Who does it affect?
Long COVID is a condition where people continue to experience symptoms that last beyond three months from when they were initially infected withCOVID-19. There are a wide range of symptoms, such as fatigue, headache, shortness of breath, memory loss and loss of sense of taste.  
Symptoms vary from person to person, ranging from mild to severe. People with severe long COVID find they have a limited ability to undertake their ordinary day-to-day activities, such as work.  
Long COVID is much more common in adults but can also affect children. Some people are more likely to experience long COVID: people with existing health conditions, people who were unvaccinated when they got COVID-19 and people who were hospitalised due to COVID-19.