 An evidence based approach to public health in the west
The Data, Epidemiology and Surveillance (DES) team at the Western Public Health Unit provides insights to ensure an evidence-based public health response to COVID-19 outbreaks and vaccination. The DES team comprises epidemiologists, data analysts and data assurance officers who analyse, interpret and monitor key patterns and trends throughout the pandemic.
WPHU epidemiologists work on interpreting data and information so that it is relevant for our various stakeholders. Providing our partners with information about where COVID-19 cases are and who is most at risk allows them to implement strategies that protect those most vulnerable in the community. Our analysts and assurance officers work to organise, manage and verify data, and develop analytical tools to aid interpretation.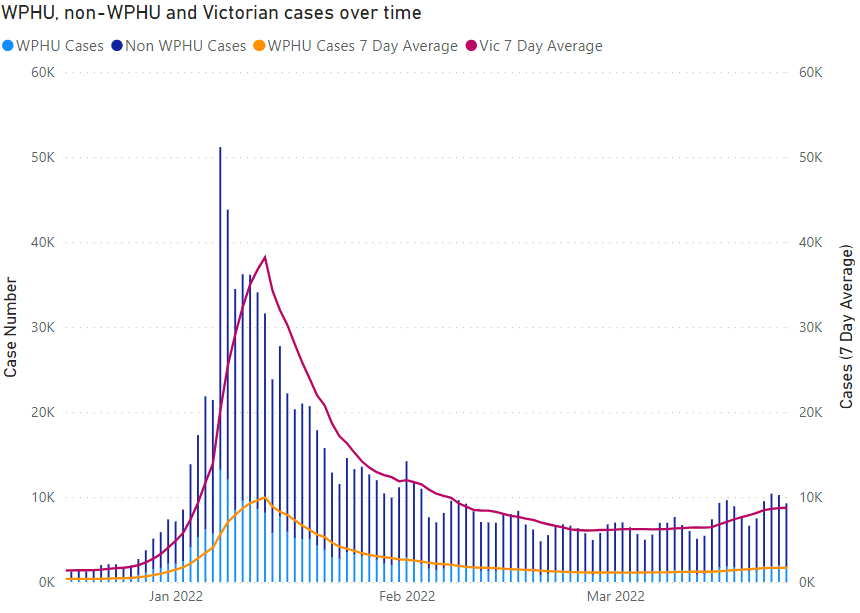 Our epidemiologists also undertake analyses on COVID-19 vaccinations and provide interpretations and insights around vaccination status and risk of severe outcomes like hospitalisation. This helps WPHU provide well-informed advice on the importance of COVID-19 vaccinations in different populations and settings, and how that contributes to preventing hospitalisation and death.
The team also works with community engagement to understand attitudinal data, particularly about COVID-19 vaccinations to understand why certain groups may be hesitant about vaccination. WPHU's combination of grassroots knowledge and data-driven approach allows us to identify gaps and determine how to address them in a targeted and nuanced way.
The DES team are keeping a close eye on the recent uptick of COVID-19 cases, which may indicate the start of a new wave. However, this is not a cause for alarm because we know that the BA.2 sub-variant responds similarly to vaccination as Omicron. Your best defence is still to get your third COVID-19 vaccination if you haven't already. We also know that although this sub-variant is more transmissible, it is not more severe. However, both Omicron variants can still cause severe disease, particularly in older people, and receiving all the boosters you are recommended to get is highly effective and long-lasting in preventing severe illness, hospitalisation and death.